Testamonials

"What a day! So grateful to have shared this experience with all of you! Janee your amazing..." - C.C. Chocorua NH
"JaneE, I can't even begin to express how grateful I am for you, for bear who gave her life to embark on a new journey as we step forth as one, for the blessed, powerful, soul-filled, healing drums that we brought to life yesterday as we received your loving guidance. Thank you so much for this amazing and beautifully healing experience.
Blessings abound....." R.H. Effingham NH
"Thank you for this awesome
opportunity. I will be forever
grateful." - K.B.
"Life changing."
"Thank you so much for offering that drum workshop ...The whole experience has been a blessing"
- S.W
I had an AMAZING time yesterday. And my drum… oh my gosh, my drum…… it did alot of drying last night. I tapped it this morning (sorry, I couldn't help it) and the sound… it is so awesome. It's going to have a beautiful voice. I decided I am not going to paint it, but leave it in it's natural state as it is.
Thank you for this totally awesome experience. I do hope our paths cross again!!
Blessings,
M
HONORING BEAR MEDICINE
CALLING – seen any sign of Bear lately?
CEREMONY – day long dive deep into intimate contact with Bear and all
the innate qualities that Bear is ready to reveal.
CREATING – deepening your relationship with Bear as you mold raw Bear hide over a 13 inch diameter hoop. Drum stick creation delves into Deer and Sheep Medicine along with that of the standing tree people.
Bear Medicine
Drum Building Workshop
Medicine Drum Studio
New London NH
November 8, 2020 10 am to 5 pm
Request for Appreciation $

Register below
~~~~~~~~~~~~~~~~~~~~~~~~~~~
Build your own sacred Bear Medicine Drum
Join Master Workshop Facilitator Jane E. King in a day of peace,
deepening into yourself as you create your own Bear Medicine Drum.
All instruction and materials included.
This is a peaceful healing event.
Why make your own drum?
Immersing yourself deep into your primal self, touching parts of you that may have been hidden in this lifetime, this is the sacred process of making your own personal medicine drum. You make tactile contact with the bear through its hide, with the sacred wood hoop, with the water, air, earth, fire, and all relations involved in this immersion.
Your heart has a knowing. Does it call you into this process? As you make your drum a special camaraderie blossoms among the participants, with each student supporting and helping the others. By sharing experiences and knowledge, participants create a "circle of learning" that encourages discovery and understanding.
This process is life enhancing – life changing.
Bear Medicine Drum Workshop

at Medicine Drum Studio, New London NH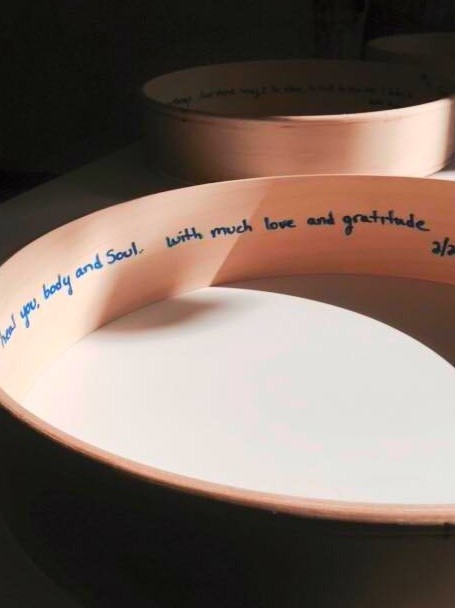 Copyright 2019 JaneE King All rights reserved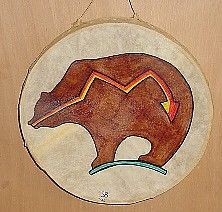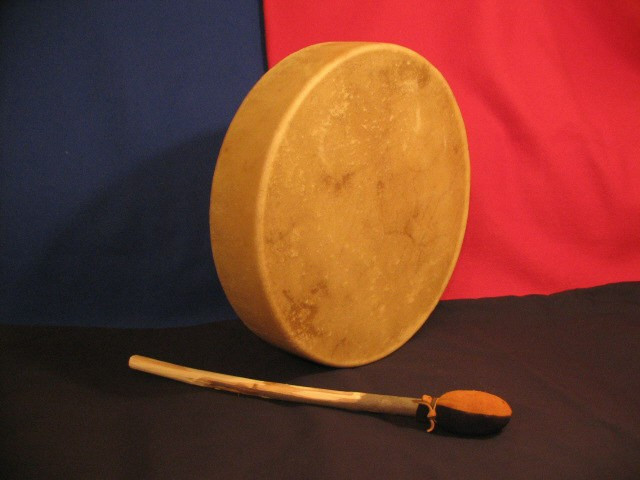 Write your prayer
or inscription
in your drum hoop.